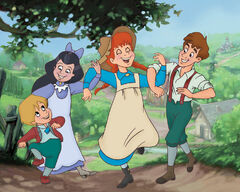 Anne of Green Gables: The Animated Series is a Canadian animated television series produced by Sullivan Entertainment and developed by writer/director/producer Kevin Sullivan, based on the 1908 novel Anne of Green Gables by L. M. Montgomery. One season of the series was produced, with 26 episodes, originally airing from 2001 to 2002. The series was developed for PBS. Then the show aired in reruns on Qubo from May 13, 2013, until December 25, 2016. Each episode contained an educational aspect, with a problem for one or more of the show's characters to face and solve. In conjunction with these problems, PBS "Ready-to-Learn" guides were created for teachers in America to use in classrooms.
Voice Cast
Bryn McAuley as Anne Shirley
Wayne Robson as Matthew Cuthbert
Patricia Gage as Marilla Cuthbert
Ali Mukaddam as Gilbert Blythe
Emily Hampshire as Diana Barry
Dalene Irvine as Felicity King
Kyle Fairlie as Felix King
Linda Sorensen as Hetty King
Anne Anglin as Peg Bowen
Tracey Moore as Dryad
Patricia Hamilton as Rachel Lynde
Keith Dinicol and Keith Knight as The Willows
Richard Binsley as Mr. Lawson
Adrian Truss as Mr. Gresham
Andrew Craig as Perry
Funding
Barbie.com
Contributions to your PBS station from Viewers Like You!