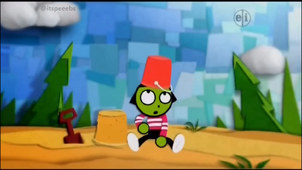 Are You Afraid of the Dark? is a joint Canadian-American horror/fantasy-themed anthology series. The original series was a joint production between the Canadian company Cinar and the American Nickelodeon channel. The show was filmed in Richmond, British Columbia and Montreal, Quebec.
PBS Kids spoofed the show as "Are You Scared of The Frog?" It features Dot at the beach and the gets scared and the Frog hops in the bucket and reveals the frog is show
Connections
Ad blocker interference detected!
Wikia is a free-to-use site that makes money from advertising. We have a modified experience for viewers using ad blockers

Wikia is not accessible if you've made further modifications. Remove the custom ad blocker rule(s) and the page will load as expected.