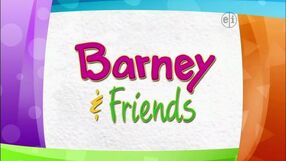 Barney & Friends is an independent children's television show produced in United States, aimed at very young children ages 1 to 8 years old. The series, which was first released 1988 direct-to-video episodes as a series called Barney and the Backyard Gang, features the title character Barney a purple anthromorphic dinosaur who conveys learning through songs and small dance routines with an optimistic and friendly attitude. Produced by HIT Entertainment and WNET in New York. 
Characters
The series is rated TV-Y.
It was originally produced by the the Lyons Group.
Funding:
The Corporation for Public Broadcasting (1992-1998)
Viewers Like You (1992-present)
Kimberly-Clark/Huggies (1993)
Enfamil Next Step Toddler Formula (1996-1997)
Kellogg's Frosted Flakes (1997-2002)
Movies and specials
Ad blocker interference detected!
Wikia is a free-to-use site that makes money from advertising. We have a modified experience for viewers using ad blockers

Wikia is not accessible if you've made further modifications. Remove the custom ad blocker rule(s) and the page will load as expected.