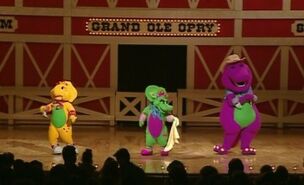 Barney at Grand Ole Opry is a Barney show performed at the Grand Ole Opry in Nashville, Tennessee in 1995.
Songs
Barney Theme Song
The More We Get Together
There are Seven Days
Just Imagine
She'll Be Coming Around the Mountain
Listen to the Nightime
If You're Happy and You Know It
Protect Our Earth
Home on the Range
Mr Knickerbocker
I Love You
Ad blocker interference detected!
Wikia is a free-to-use site that makes money from advertising. We have a modified experience for viewers using ad blockers

Wikia is not accessible if you've made further modifications. Remove the custom ad blocker rule(s) and the page will load as expected.