Royal Oak Farmers Market is a place in Royal Oak, Michigan. Every year, Barney would perform a sing-along show there in late June.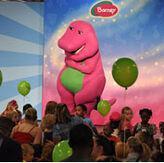 Songs (for the Barney Sing-Along Show)
Barney Theme Song
Being Together
The Airplane Song
If All the Raindrops
Mr. Knickerbocker
Way to Count
The Clapping Song
Exercise is Good for You
Dino Dance
I Love You
Trivia
Even though not being performed in Royal Oak, the audio from this show is used for many other Barney appearances.
Ad blocker interference detected!
Wikia is a free-to-use site that makes money from advertising. We have a modified experience for viewers using ad blockers

Wikia is not accessible if you've made further modifications. Remove the custom ad blocker rule(s) and the page will load as expected.