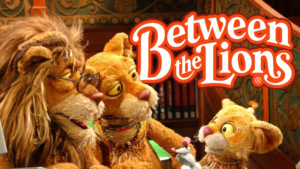 Between the Lions is an American children's television series designed to promote reading. The show was a co-production between WGBH in Boston and Sirius Thinking, Ltd. in New York City, in association with Mississippi Public Broadcasting in Mississippi. The show has won seven Daytime Emmy awards between 2001 and 2007. The target audience is children 5-8 years old.
Cast
Noel MacNeal as Lionel Lion
Kathryn Mullen as Leona Lion
Jennifer Barnhart as Cleo Lion
Peter Linz as Theo Lion / Heath the Thesaurus / Announcer Bunny
Barnaby B. Busterfield III
Tyler Bunch as Dr. Nitwhite
Tim Lagasse as Arty Smartypants / Barnaby B. Busterfield III / Gus Rabbit
Heather Asch as Clay Pigeon / Click the Mouse / Marmy Smartypants
Rick Lyon as Ted the Scientist Monkey
Lisa Buckley as Chelsea
David Matthew Feldman - Monkeys, Ducks
Fred Newman as himself
Funding
The U.S. Department of Education
The Corporation for Public Broadcasting
The Carnegie Corporation of New York
Park Foundation
The Arthur Vining Davis Foundations
Charles H. Revson Foundation
Institute for Civil Society
A Ready to Learn
No Child Left Behind Grant
Barksdale Reading Institute
etoys.com
Cheerios
Bright Horizons
Chick-fil-a
Ad blocker interference detected!
Wikia is a free-to-use site that makes money from advertising. We have a modified experience for viewers using ad blockers

Wikia is not accessible if you've made further modifications. Remove the custom ad blocker rule(s) and the page will load as expected.