Caillou is a Canadian educa children's television series that was first shown on Télétoon and Teletoon with the first episode airing on the former channel on September 15, 1997 the show later moved to Treehouse TV with its final episode being shown on that channel on October 3, 2010. The series is based on the books by Hélène Desputeaux. Produced by DHX Media It centers on a 4-year-old named Caillou who is fasc by the world around him.
Aimed at the toddler and pre-school set, "Caillou" is an educational show that stars the 4-year-old title character (pronounced KY-YOO), who lives with his mother, father and sister in a blue house on Pine Street. Caillou has invisible friends, learns how to play sports and explores nature. Friendly and curious, Caillou discovers as much fun and wonder as any kid can imagine. In addition to the animated segments featuring Caillou's adventures, the show also features puppet skits and videos of children in real-life situations.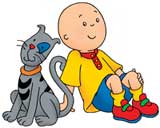 Ad blocker interference detected!
Wikia is a free-to-use site that makes money from advertising. We have a modified experience for viewers using ad blockers

Wikia is not accessible if you've made further modifications. Remove the custom ad blocker rule(s) and the page will load as expected.