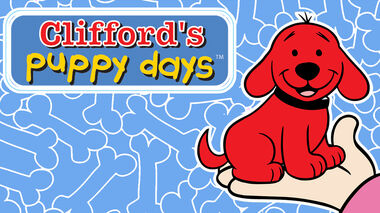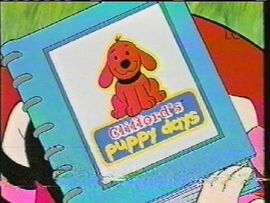 Clifford's Puppy Days is an the American television series that originally aired on both PBS and PBS Kids from September 15, 2003 to February 23, 2006. Produced by Scholastic Studios.
Even a big red dog was once a puppy!
Voice Cast
Lara Jill Miller as Clifford
Grey Griffin as Emily Elizabeth Howard
Kath Soucie as Daffodil
Masiela Lusha as Nina
Orlando Brown as Evan Thomas Taylor
Lauren Tom as Shun
LaTonya as Flo
Ogie Banks as Zo
Jess Harnell as Jorge
Henry Winkler as Norville
Alan Oppenheimer as Mr. Solomon
Funding
Ready To Learn Television Cooperative Agreement
The U.S. Department of Education
Public Broadcasting Service
Chuck E. Cheese's
Contributions to your PBS Station from Viewers Like You
Ad blocker interference detected!
Wikia is a free-to-use site that makes money from advertising. We have a modified experience for viewers using ad blockers

Wikia is not accessible if you've made further modifications. Remove the custom ad blocker rule(s) and the page will load as expected.