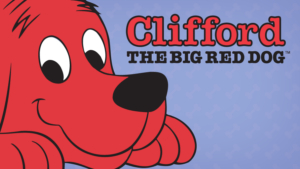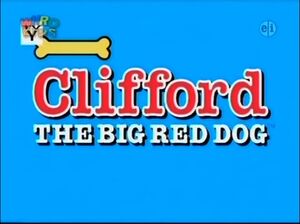 Clifford the Big Red Dog is an educational animated children's television series, based upon Norman Bridwell's children's book series of the name. Produced by Scholastic Productions, it originally aired on PBS Kids from September 4, 2000 to February 25, 2003.
The series is rated TV-Y
Voice Cast
Grey Griffin as Emily Elizabeth Howard / Emily's Mom
John Ritter as Cliffrod the Big Red Dog
Kel Mitchell as T-Bone
Nick Jameson as Sherriff Lewis
Cree Summer as Cleo / Ms. Diller
Cameron Clarke as Mac / Emily's Dad
Kath Soucie as Jetta Handover
Debi Derryberry as Cosmo Handover
Ulysses Cuadra as Vaz
Earl Boen as Horace Bleakman
Edie McClurg as Violet Bleakman
Funding
Ready To Learn Television Cooperative Agreement
The U.S. Department of Education
Public Broadcasting Service
The Corporation for Public Broadcasting
Chuck E, Cheese's
Kix Cereal
and by Contributions to your PBS Station from Viewers Like You
Ad blocker interference detected!
Wikia is a free-to-use site that makes money from advertising. We have a modified experience for viewers using ad blockers

Wikia is not accessible if you've made further modifications. Remove the custom ad blocker rule(s) and the page will load as expected.