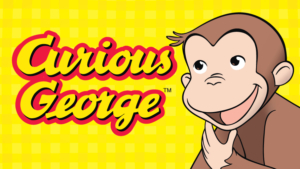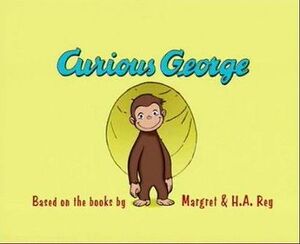 Curious George is an American animated children's television series based of The children's book series of same name by Margret & H.A. Rey. The show is nine seasons and 108 episodes. The show is still broadcasting on PBS Kids on September 4, 2006 to April 1, 2015. Produced by Imagine Entertainment, WGBH Kids in Boston, and Universal Animation Studios.
The show is rated TV-Y
Animated series about a monkey and his friends.
Voice Cast
Frank Welker as George
Jeff Bennett as The Man with the Yellow Hat / Mr. Renkins
Jim Cummings as Jumpy Squirrel / Chef Pishghetti
Rolonda Watts as Professor Wiseman
Susan Silo as Netti
Kath Soucie aa Mrs. Renkins
Lara Jill Miller as Allie
Annie Mumolo as Bill
Elizabeth Daily as Steve
Grey Griffin as Betsy
Rob Paulsen as Mr. Glass
Bill Chott as The Doorman