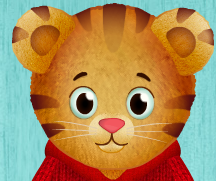 Daniel Tiger is the star of Daniel Tiger's Neighborhood. He and his friends explore their neighborhood as they learn to deal with issues like visiting school for the first time or getting mad.
Daniel is the son of Daniel Striped Tiger from Mister Rogers' Neighborhood. His mother is Mom Tiger and his grandfather is Grandpere Tiger. He and his parents welcomed a baby sister named Margaret into their family in "Meet the New Baby".
Appearance
Daniel wears a red cardigan sweater and red sneakers. Many of the furnishings in his house, such as the traffic light, shelves of models of Neighborhood buildings, and Picture Picture, were present in Mister Rogers' Neighborhood. Both of these are direct allusions to Fred Rogers and his studio house.
Ad blocker interference detected!
Wikia is a free-to-use site that makes money from advertising. We have a modified experience for viewers using ad blockers

Wikia is not accessible if you've made further modifications. Remove the custom ad blocker rule(s) and the page will load as expected.