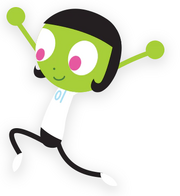 Dot is, a young teenager and she is the host and TV series character of the PBS Kids channel. Dot is naturally cool, awesome, sweet and dramatic because she is very sensitive. Her curiosity often gets her into trouble, but she is quick to learn from her mistakes. She has two younger siblings shown on tv with her: Dee and Del, who often get in trouble themselves too. Dot is playful, lively, vivacious and charming, and she likes meeting new people. Being an older sister, she is usually stuck babysitting her younger siblings and trying to get them out of trouble, but the four of them love each other just the same. Appearance She has short hair, a red striped shirt, black leggings, and black shoes.
Elsie Fisher is the voice of Dot, she was just 12 years old at the time of voicing Dot, which is Dot's real age, and Dot goes to Francis Midle School and in 12-14 yearl goes to Fortville High. She also voices Agnes on Dispicable Me. She was replaced with Aja Wooldridge in her redesign, who was 8 at the time.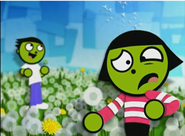 Voiced by
Elsie Fisher (2007-2013)
Aja Wooldridge (2013-present)
Ad blocker interference detected!
Wikia is a free-to-use site that makes money from advertising. We have a modified experience for viewers using ad blockers

Wikia is not accessible if you've made further modifications. Remove the custom ad blocker rule(s) and the page will load as expected.