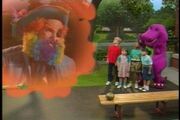 Five Faces of Heroes Part 2 is a Season 1 episode of The Barney Show.
Summary
In Part 2 of 0, Michael gets stuck on a water. Can Barney and Luci will help him?
Song List
1. Three Little Fireman
2. Twinkle, Twinkle Little Star
3. Ghostbusters
4. The Grand Old Duke of York
Cast
Ad blocker interference detected!
Wikia is a free-to-use site that makes money from advertising. We have a modified experience for viewers using ad blockers

Wikia is not accessible if you've made further modifications. Remove the custom ad blocker rule(s) and the page will load as expected.