"Happy Holidays Love, Barney"
is an album released on September 30, 1997. This soundtrack has some Winter hoilday songs.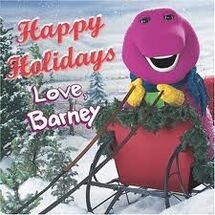 Songs
Rudolph the Red-Nosed Reindeer
My Dreidel
Suzy Snowflake
A Holly Jolly Christmas
Jingle Bell Rock
The Twelve Days of Christmas
Habari Gani
Up on the House-top
Ad blocker interference detected!
Wikia is a free-to-use site that makes money from advertising. We have a modified experience for viewers using ad blockers

Wikia is not accessible if you've made further modifications. Remove the custom ad blocker rule(s) and the page will load as expected.