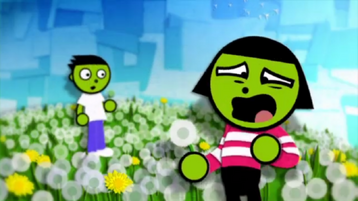 The List of Certain activities was Shown on PBS Kids On Summer 2008
Thus bumper is shown at the end of the shows on tv
Spoofs
Spoofs Included "Open it Up (based on Shake it Up) "Sliding" deii.
Bumpers
Image
Show
Name
Descripton

All Shows
Ants
Some Ants Carry The PBS Kids Logo by The Ants is Shown in here.

Rare Shows

Aquarium

Dot Swims on a Aquarium like Jellyfish

Note: this is a first Reappearance of Dash as Part in the 2008 Reface.

Most Shows
Balls
Dot Rubs the tree.....................causing the Balls To Come Out

All Shows
Birds
A Red Bird and a Blue hatching the Baby Chicks on the Tree

All Shows
Bugs

Dash Opens a Rock and see the bugs

Most Shows
Bubbles
Dot Blows 3 Bubbles until the Large Bubble is being Blowed

Rare Shows
Camera
Dot gets all paparazzi on Dash.

All Shows
Carrot
Dash Collects The Carrots before Yanking and the Debut Bunny Appears

Most Shows
Dandlelion
this is happened in the bumper. Dot Smells Before Sneezing when Dot and Dash Desappeared, the logo appears in the background.

All Shows
Dust (Or Out of the Window)
Dot was So Tired because there's dust and he tries To Catch it, Zoom in (Parodying the Opening of Out of the Box) and the PBS KIDS logo is shown

Rare Shows
Fireflies
Dash Holds A Jug Full of Fireflies before Opens It Up (A Parody of Shake It Up).

All Shows
Fireworks
A Fireworks Is Seen with The Logo. Orignially Used on January 2009, then used on regular programing in March 2009.

Most Shows
Frog
A Parody of Nickelodeon Series Are You Afraid of the Dark?

Best Shows
Kite
Dash was So Sad because the kite won't fly While Dot's Makes a Idea And He Rides on the Bike and the Kite was Flying

All Shows
Lake
Dot discovers that sometimes it's what's on the sunface that's counts

Rare Shows
Magnet
Dash Holds A Magnet...............Until Dot Appears

All Shows
Sheeps
A Farm is Seen with Some Sheeps.................Until Dash & Dot Is Crowded by Lots of Sheeps

Most Shows
Puddle
Dot Steped on the Puddle Until Dash Got Wet This Soundtrack is Same as a 'Magnet' Bumper.

Most Shows
Sprinkler
A Sprinkler tries to wet him until he both wet while laughing

Rare Shows
Static
Dash Holds A Static Balloon............Until Dot Got

electricity

Like The Electric Company

Best Shows
Rock Climb
Dot Was So Tired again because he can't get up and Dash's Hand Appears he holds hands then Dash Uses the Flag

All Shows
Telescope
A Green Planet Is Seen on the Space. then Dot's Eye Appears on the telescope

Rare Shows
Sandbox
A Treasure Map That Dots Hops to the Sandbox

Best Shows
Vents
Dot Sings the 2008 Theme
Idents
| | | |
| --- | --- | --- |
| Image | Name | Description |
| | Rock | Dash and Dot Plays a Rock. Not to be Confused with the NBC Television Series "30 Rock" |
| | Box | Dot Plays a Fun............in your Box. |
| | Picnic | At The End of the Bumper. Dot Joins to Dash at the Picnic |
| | Shell | Dash knew the shell was moving. he looks closely to it. until the crab pops out and pimple Dash's nose. Dash reacts. Not to be Confused with the Gas Station |
| | Bilplane | Dot and Dash flys on a Plane |
| | Snuggie | Dash Wake Up Early to View the Sunrise |
| | Cave | Dash is inside the cave (or Table) |
| | Rocket | Dash is inside the rocket to blast off..................until the rocket is broken |
| | Submarine | Dash was inside the Submarine |
| | Binocular (both) | Dot and Dash Holds Binocular |
Unaired
| | | | |
| --- | --- | --- | --- |
| Image | Show | Name | Description |
| | Unaired | Footprints | Dash Discovers Footprints.This Video is Still Uploaded on Vimeo |
Endpages
| | | |
| --- | --- | --- |
| Image | Name | Description |
| | Binocluar (On Outside) | Dot holds a Binocluar |
| | Raining | Dot Showed A Recreaton of the Bumper 'Seasons' |
| | Safari | Dot Looks for the Rock then In the End, Dot Found A Rock |
| | Leaf | Dot Plays With Leaves |
| | Butterflies | A Blue Butterfly was shown along with Yellow and Red Butterflies |
| | Slide | In A Spoof Of Warner Brothers Looney Tunes Opening. Dot Slides |
Notes
Dash Was Did Not Appear in the Endpages
Ad blocker interference detected!
Wikia is a free-to-use site that makes money from advertising. We have a modified experience for viewers using ad blockers

Wikia is not accessible if you've made further modifications. Remove the custom ad blocker rule(s) and the page will load as expected.