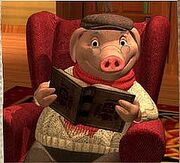 Piggley Winks, also known as Grandpa Piggley, is the son of Padrig and Elly Winks, the older brother of Molly, the father of Ciara, the grandfather of Meg, Sean and Seamus and is the main character in Jakers! The Adventures of Piggley Winks. He is voiced by Maile Flanagan as a child and Peadar Lamb as an adult.
Piggley's Bio
This spirited ten-year-old is our hero and the unofficial leader of the youngsters in and around the village of Tara. He's spunky, creative, imaginative rascal with a streak of mischief in his veins and a definite gift of the gab. His favourite activity is going on adventures (don't ask him to sit down) with his two best friends Ferny and Dannan.
If there's a simple straightforward way of doing something it's of no interest to Piggley!. He'd rather uncover the mysteries of everyday life, explore the other reaches of imagination and cook up exciting new schemes.
Grandpa Piggley's Bio
A masterful storyteller with a great sense of adventure, Grandpa is a warm loving grandparent who still retains much of the rascally quality of his youth. He loves to spin good tales partially those of his adventurous childhood back on Raloo Farm. Although Grandpa Piggley may embellish a bit his stories have a strong core of universal truth about them.
Trivia
His favourite music is rock and roll.
His favourite food is apple pie.
His favourite color is green.
Ad blocker interference detected!
Wikia is a free-to-use site that makes money from advertising. We have a modified experience for viewers using ad blockers

Wikia is not accessible if you've made further modifications. Remove the custom ad blocker rule(s) and the page will load as expected.