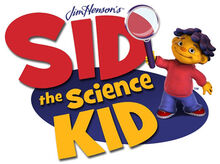 Sid the Science Kid is a show that aired on PBS Kids from September 1, 2008 until March 25, 2013. It was created by the Jim Henson Company and used the Henson Digital Puppetry Studio.
Summary
The show is about a little boy who loves science and is excited about learning. Each day he discovers something new at school and comes up with invention ideas at night.
Movie
The show got it's own movie called Sid the Science Kid: the Movie in 2012.
Trivia
The working title for the show was "What's the Big Idea?"
Sid's original name was Josh during production.
The show was animated using motion capture, a method that allows voice actors to voice the characters in real time.
Ad blocker interference detected!
Wikia is a free-to-use site that makes money from advertising. We have a modified experience for viewers using ad blockers

Wikia is not accessible if you've made further modifications. Remove the custom ad blocker rule(s) and the page will load as expected.