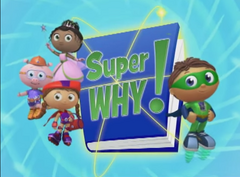 Super Why! and the Super Readers

Produced by

In association with

In cooperation with

Funding By

Chuck'E'Cheese Playground Corporation
ABCMouse.com

Director

Millicent Filomarto
Super Why! is a show on PBS Kids that started airing in September 2007. When the gang has a problem, they head to the book club for sure. Once the problem is disscused, Pig wonders "Which book shoud we look in?" and Princess Pea casts the magic spell: Peas and carrots, carrots and peas! Book come out, Please please please!
Funding
A Cooperative Agreement from the U.S. Department of Education's Ready to Learn Grant (2007-2011, 2011-present) Season 1 Only
The Corporation for Public Broadcasting (2007-present)
Viewers Like You (2007-present)
Chuck E Cheese's (2007-present)
ABCmouse.com (2011-present)