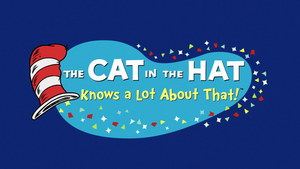 The Cat in the Hat Knows a Lot About That! is a show on PBS KIDS that has been airing since September 6, 2010 and continues to run on television to this day. Produced by Portfolio Entertainment, Random House Children's Entertainment, and Treehouse Original. It is based off of the popular "Cat in the Hat" picture book series by "Dr. Seuss".
Voice Cast
Martin Short as The Cat in the Hat
Jacob Ewaniuk as Nick
Alexa Torrington as Sally
Rob Tinker as Fish / Thing One and Thing Two
Tracey Hoyt as Nick's Mom / Sally's Mom
Ad blocker interference detected!
Wikia is a free-to-use site that makes money from advertising. We have a modified experience for viewers using ad blockers

Wikia is not accessible if you've made further modifications. Remove the custom ad blocker rule(s) and the page will load as expected.