This is a list of all the different types of bumpers thar were or are still aired by WVIZ Ideastream. Note that the years are for when the bumper aired or still airs
Idents
Arthur (1999-2007)
The end of the Arthur ident is seen.
Arthur (2013-present)
The PBS Kids elephant ident is seen. You see the text Next: Arthur. Then, The WVIZ logo goes on the screen.
The Big Comfy Couch (2000-2006)
This ident has the moving lines from the quadrilateral ID and the music from the wishbone ID. A green cirlcle spreads open with The Big Comfy Couch inflatable lettler logo inside
Caillou (1999-2007)
Clips of Caillou are shown. Rexy says that Caillou is next.
Clifford the Big Red Dog (2000-2007)
The Teletubbies ident music and background is seen as the logo for Clifford zooms in.
Dragon Tales (1999-2007)
The background is the on on the PBS Kids Wishbone ident. The sound is from the Arthur ident.
Mr. Roger's Neighborhood (1999-2007)
The background and music is from the Zoboomafoo ident. The logo for Mr. Roger's Neighborhood zooms in.
Reading Rainbow (1999-2007)
Has the 007 ident background and has the music (once again) from the wishbone ID. The logo is still.
Sesame Street (1999-present)
The end of the Sesame Street ident is seen.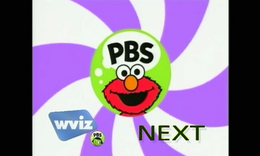 Schedule Bumpers
From 1999-2008, WVIZ used schedule bumpers.
Space
Dot and Dash look through a telescope.
Autumn
A squirrel with glasses runs around.
Station Idents
Busy City (2013-present)
The 2013 City ident is shown with the WVIZ logo.
Ad blocker interference detected!
Wikia is a free-to-use site that makes money from advertising. We have a modified experience for viewers using ad blockers

Wikia is not accessible if you've made further modifications. Remove the custom ad blocker rule(s) and the page will load as expected.